Production Recap/Update #1
TL;DR – as of right now, we are on track to meet our original anticipated ship date of September. Hooray!
But I know you're wondering: what's going on with the product? When will I receive my order? Isn't Ample being produced now? If so, why do I have to wait a few months? So without further ado:
How is Ample currently being produced?
Slowly, manually, and in small batches in a commercial kitchen in SF. It's quite the process, and one without nearly as much of a quality control system in place as we need at scale. We source ingredients from verified suppliers and test for taste and consistency, but with so many ingredients in such small amounts, even a slight deviation from the formula can throw off the batch.
Plus, many of our small-scale suppliers are on backorder. We can't make Ample reliably enough, or at the scale to sell right now – just a few samples and tests. This is why we're incredibly excited to scale!
The solution: contract manufacturing.
Our proposed plan as laid out on Indiegogo: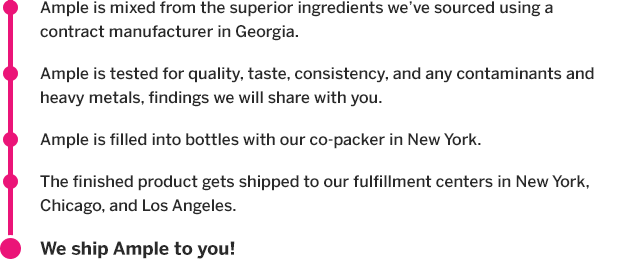 Of course, choosing the right partnerships are imperative. This is especially the case from the get-go. We expect amazing quality, and you guys deserve it!
And here's the cool part: before the Indiegogo campaign, we got quotes from only a few contract manufacturers willing to work with us. Why? Because Ample was a product they didn't know would sell – and one that is HARD to source ingredients for. After all, what other product has organic powdered macadamia nut oil, probiotics, green banana starch and pumpkin protein? And since beggars can't be choosers, we just didn't have many choices.
But with the success of our campaign, we've had a heck of a lot more manufacturers excited to work with us. Thanks to you, we've got options. And this means the potential for even better quality, with someone who can scale with us for longer. And since it's so critical to get it right, we're spending just a couple weeks scouting out the new contenders.
Because Ben Franklin:
But have no fear. We suspected this might happen, and baked this process in the production timeline. So we're still on track to ship in September!
So what's the real difference between manufacturers?
There are a bunch. But here are a few of the big questions we ask ourselves when choosing a partner:
Do they just crank out many generic protein mixes, or craft a few awesome, unique products?
How large can they scale?
What kind of quality assurance protocols do they use?
How transparent are they?
Now, before we let the word "transparent" devolve into some corporate buzzword, let's define how "transparent" we expect these manufacturers to be:
We need to interact directly and regularly with the people who will be handling our product, not dealing with any middlemen. There need to be open lines of communication, and we expect a high degree of responsiveness from our partners.
We need to be able to tell our customers how ingredients are being sourced, with appropriate certificates of analysis from all of the new suppliers. You may be surprised to know that knowing ingredient suppliers is not industry standard. Manufacturers typically believe that the name of the source is their best competitive advantage, so won't tell the brand. And most brands don't care much where the ingredients come from, as long as the product is safe and the price is right – but we don't plan to be like most brands.
We need to be able to visit and work on-site. We must meet our partners in-person and gauge the organization and cleanliness of their facilities, plus interact with their quality-control and engineering staff.
We need to be heavily involved in the iterative development process. Only then can we approve a final sample of the product prior to moving into a full-scale production run.
For a product as awesome as Ample, we just need to make certain that the process is insanely safe, the quality is high, and the taste is on point. Heck, we've got a taste guarantee!
The best part is that we have already found a few more potential partners we're totally pumped about, that can move quickly.
More often than not, successful crowdfunding campaigns ship notoriously late, and we don't plan to become one of them. But of course, we will keep you in the loop regarding anything production-related and any developments that may cause delays: via the private FB group, email newsletters, official Indiegogo updates, and the website (i.e., this blog). We're super excited to get the highest quality Ample out to you ASAP!
Additional housekeeping:
Please expect an email survey from BackerKit in the next couple of days to confirm your shipping address and your order. Plus, it'll be your last chance to add on additional packs at a steeper discount (we're bringing back our early bird pricing for all you lovely backers!). And, if you were one of our original early bird backers who paid shipping costs, we're giving it back to you as complimentary credit! Whatever you don't use, we can refund you. If you DO NOT receive an email, please contact rona@amplemeal.com because you may have entered in your email incorrectly on Indiegogo.
We are getting a lot of inbound requests right now, so we apologize for delays in response times.
Fun stuff: will hopefully have a date finalized for the launch party for the amazing heavy-hitter backers thinking of joining us in the Bay! Targeting a Friday night in ~mid-September.
Finally, if you have any friends that didn't get in on the Indiegogo campaign, let them know that they can pre-order through our website (amplemeal.com). We're in the process of redesigning it completely, and are so excited about that rollout!